Vandaag weer op pad. Ik rij vanuit Kissimmee naar Tampa. Ik heb eerlijk gezegd niet echt een plan gemaakt en ik rij wat door het centrum heen, maar vind niet echt iets heel interessants om te gaan bekijken. Dus ik rij verder richting Clearwater. Tussen Tampa en Clearwater rij je over een soort dijk een enorme baai over. Het op sommige plekken wel of je door het water rijdt. Ik maak een kleine omweg en kom bij Clearwater beach. Parelwit strand en palmbomen. Ik had dat eerlijk gezegd niet verwacht. Het water is niet zo blauw als op Curaçao, maar het lijkt er wel op.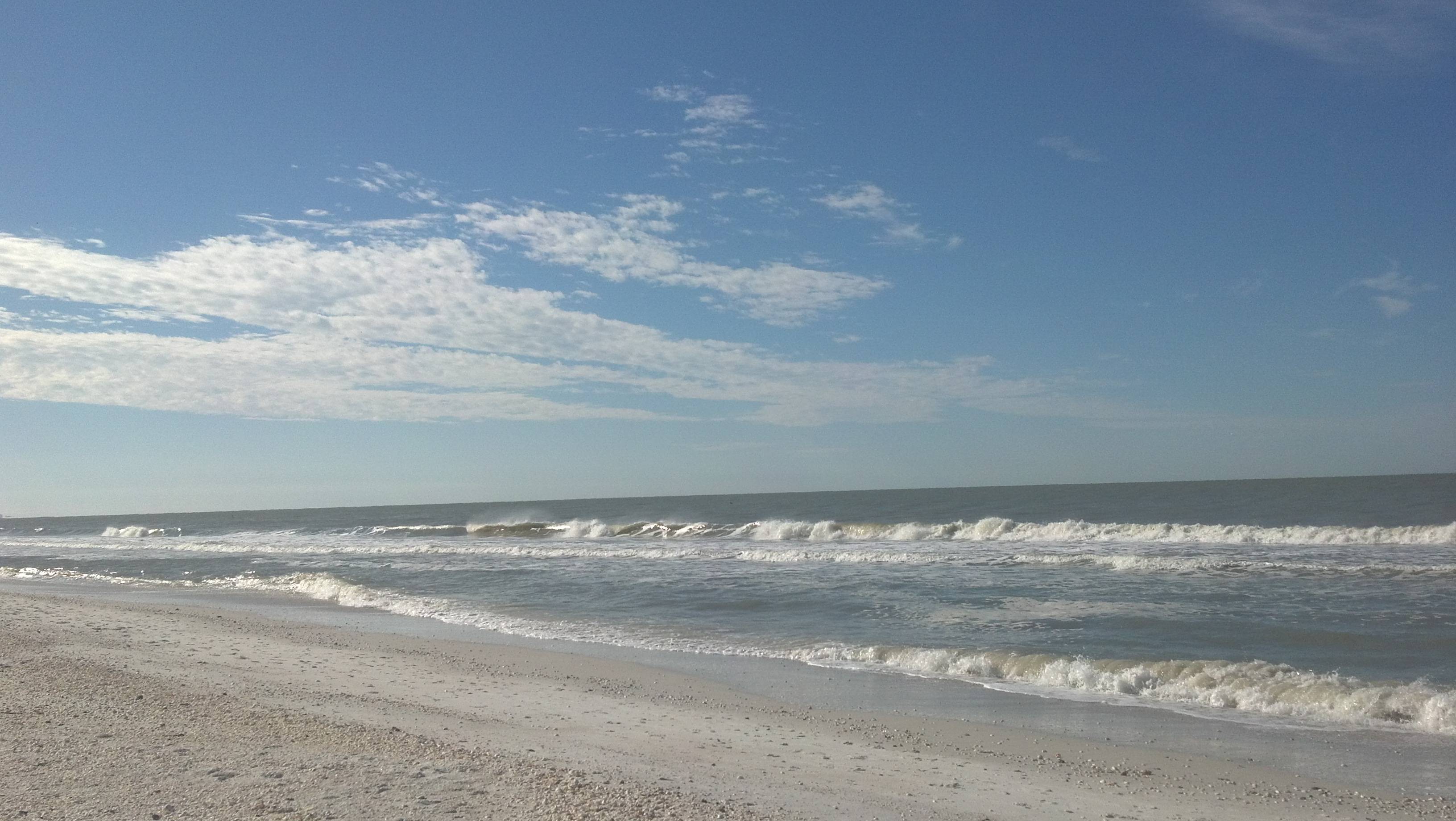 Ik loop hier een uurtje rond. Eet mijn lunch en ga door naar de andere kant van de baai bij St. Petersburg. Ik zit niet ineens in Rusland, hier hebben ze er ook één, zoals hier wel meer namen gejat zijn. Ik maak een stop bij Fort de Soto en het strand. Er staan her en der wat kanonnen en ook hier is het strand mooi maar verder is er niet veel te beleven. Als ik de borden over de stingrays zie en dat er niet mag worden gezwommen begrijp ik ook waarom. Hier moest ik trouwens wel een paar dollar toll betalen. Ik besluit toch een uurtje op het strand te gaan liggen. Even helemaal niets doen. Heerlijk. En uitzicht op een enorme brug.
Eenmaal over de Sunshine skyline bridge kom ik bij Sarasota. Hier kijk ik wat rond en besluit een broodje te kopen. Nou ja, broodje. Voor 15 dollar krijg ik een complete dubbele stokbrood aangeboden.
Daarna rij ik door naar Sanibel waar ik ook weer tol moet betalen om op het eilandje te komen. Het is hier wel heerlijk rustig als langzaam de zon ondergaat.
Ik heb me wel enorm vergist in de tijd dat ik nodig had om naar mijn hotel te komen. Het is al tegen 21u als ik daar aankom.  De Sleep Inn and Suites in Port Charlotte.
Overigens een prima hotel. Niet echt waar ik snel nogmaals zou overnachten, maar dat komt dan alleen door de ligging. Puur als doorgangs overnachtingsplek prima. Vriendelijk en behulpzame medewerkers, grote schone kamers, prima bedden en een zeer degelijk ontbijt. Het is alleen wel even sjouwen met de koffers, want de lift deed het niet, maar goed. In eerste instantie konden ze mijn reservering ook niet direct vinden. Maar toen ik deze op papier gaf en ze ook de rest van mijn roadbook en dergelijke zagen was het snel gevonden en wilde ze direct meer weten van mijn trip. Dit was mijn eerste 'petfriendly' hotel overigens, maar ik kan er weinig aan opmerken. Het enige is dat het toilet zo laag stond dat het net leek dat je op de grond zat haha.
Morgen weer een lange dag naar Key West en dan terug naar Miami Beach.